Thames cable car to cost '£40m and not ready by 2012'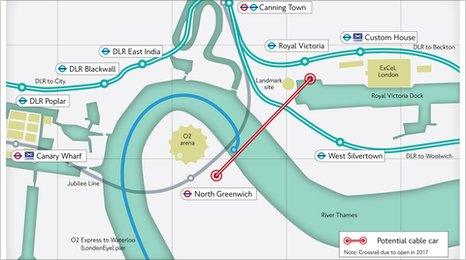 A planned cable car across the River Thames to link 2012 Olympic venues may not be ready in time for the games, a report has said.
The London Development Agency's report warned construction could start at the earliest by January 2012. It said the plan will cost £15m more than thought.
The project was initially intended to be funded by private companies.
But Mayor of London Boris Johnson has now asked the London Development Agency to contribute £1.21m.
It is understood the LDA initially did not want to fund the project owing to its financial difficulties, until Mr Johnson gave them "direction" to do so.
The cable car was originally projected to cost £25m.
Caroline Pidgeon, leader of the Liberal Democrat London Assembly Group, said: "A cable car crossing the Thames might well be a great idea, but the bottom line is that the mayor promised Londoners that it would be funded entirely from private finance and that has already turned out to not be the case.
"The mayor now needs to give a clear account of why he rejected the views of the board of the London Development Agency and forced them to divert public funding into his pet project."
The cable car is to connect Greenwich and the Royal Docks, carrying up to 2,500 passengers an hour.
It was designed to cut journey times between the O2 arena and the ExCel exhibition centre - both of which are Olympic locations.
A spokesperson for Mr Johnson said: "The mayor has asked officials to explore all the options to underwrite this important development whilst seeking a private sponsor."
Related Internet Links
The BBC is not responsible for the content of external sites.