Tony Dyce killings: The girl who found family's bodies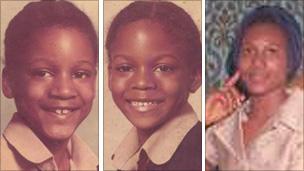 Rhodene Cunningham was four years old when she discovered the bodies of her mother and two sisters at their home in east London in 1982.
Norma Richards, 27, was raped and stabbed, while her daughters Samantha and Syretta were found dead in the bath.
Samantha, who was nine, had been stabbed eight times, while seven-year-old Syretta had drowned.
Ms Cunningham, now 32, had been staying with her grandmother that weekend and said she was still haunted by the scene which greeted her when she went home.
"I was really scared," she said. "My mum was just lying there covered in blood.
"I ran upstairs and my sisters were in the bath. They were dead too."
She said she could not understand who would want to hurt them and bottled up her feelings.
"It was hard for me to show emotion," Ms Cunningham said.
"No-one in the family would talk about it, or to talk to me."
In the years which followed, she would "have a cry now and again" but as she became older "it got harder", she admitted.
"I knew they weren't coming back.
"Every year on my birthday I would cry; it would be tears of happiness as I remembered them all, but also of great sadness."
She submitted an impact statement to the judge at the Old Bailey, saying she would "always have them in my heart and that will never change".
But she added: "I will never have my mum back to hug or see her smile. I will never be able to share a laugh or evening out with my sisters."
Related Internet Links
The BBC is not responsible for the content of external sites.