Beatles' Abbey Road zebra crossing given listed status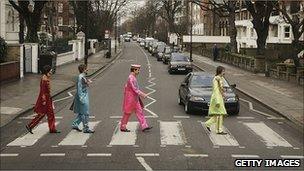 The Abbey Road zebra crossing in north London - made famous after appearing on a Beatles album cover - has been given Grade II listed status.
The crossing - the first of its kind to be listed - is being recognised for its "cultural and historical importance" following advice from English Heritage.
The Beatles were photographed on Abbey Road in Ian Macmillan's iconic cover shot for the 1969 album Abbey Road.
Sir Paul McCartney said it was the "icing on the cake" in a great year.
The original zebra crossing, where the photograph was taken, was moved several metres for traffic management reasons more than 30 years ago, and no original features remain.
A spokesman for Westminster City Council said: "The detail of exactly when and why the crossing was moved from its original location have been lost in the annals of time.
"But by comparing photographs with the Ordnance Survey maps, we believe that the crossing might have been further north nearer 3 Abbey Road, which was the front house of the EMI Studios, because the steps of Neville Court appear to the right of the crossing in original photographs of the crossing, whereas the present crossing is near the junction of Abbey Road and Grove End Road."
But John Penrose, Minister for Tourism and Heritage, said: "This London zebra crossing is no castle or cathedral but, thanks to the Beatles and a 10-minute photo-shoot one August morning in 1969, it has just as strong a claim as any to be seen as part of our heritage."
Roger Bowdler, head of designation at English Heritage, said: "This is obviously an unusual case and, although a modest structure, the crossing has international renown and continues to possess huge cultural pull - the temptation to recreate that iconic 1969 album cover remains as strong as ever.
"Together with the nearby Abbey Road studios, also listed at Grade II on our advice, they remain a Mecca for Beatles fans the world over."
Sir Paul said: "It's been a great year for me and a great year for the Beatles and hearing that the Abbey Road crossing is to be preserved is the icing on the cake."
The crossing is outside the Abbey Road studios, where the Beatles recorded much of their output.
That building was granted Grade II listed status in February.
A Grade II listing, the most common protected status, means that a building or monument is recognised as nationally important and of special interest.
Related Internet Links
The BBC is not responsible for the content of external sites.