Tube strike: Aslef drivers to walkout on Boxing Day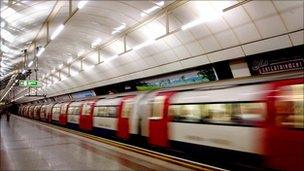 A strike by Tube drivers on Boxing Day is to go ahead, after talks with London Underground (LU) broke down.
Members of train drivers' union Aslef are planning the 24-hour walkout on Sunday, after negotiations at conciliation service Acas failed.
Its drivers are demanding extra pay and a day in lieu for working on 26 December.
But LU said the union had previously signed up to an agreement which covered bank holiday pay arrangements.
Aslef drivers will walk out from 0001 GMT on 26 December.
According to the union its members voted 9-1 in favour of industrial action which threatens to disrupt travel for football fans and Christmas shoppers.
Aslef general secretary Keith Norman said the dispute centred around a "bizarre" management claim that Boxing Day was an ordinary working day.
"Nothing changed at this morning's meeting and therefore the strike will go ahead," he said.
"This is not a dispute of the union's making, but one caused by stubborn management intransigence."
LU's managing director Mike Brown said: "The Aslef leadership is tearing up long-standing agreements that cover pay and annual leave and demanding even more - triple time and another day off.
"They walked out of talks at Acas without even talking to us directly and in so doing have made it very clear they are intent on disrupting Christmas for Londoners."
Tube services have been disrupted in recent weeks by a series of strikes in a separate row over jobs.
Related Internet Links
The BBC is not responsible for the content of external sites.