Talented MI6 spy Gareth Williams 'never spoke of work'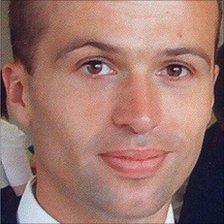 An MI6 spy who was found dead in his central London flat was a talented young man who was close to his family, but would never speak to them about his work.
Gareth Williams, 31, from Holyhead on Anglesey, north Wales, was found dead in a padlocked holdall in his central London flat in August.
The death remains suspicious and unexplained with no conclusive cause found.
Mr Williams regularly went home to north Wales to visit his family.
His parents, Ian and Ellen, live in Valley, Anglesey, while his father works at Wylfa nuclear power station. His grandmother and grandfather lived in Holyhead.
His uncle, William Hughes, said his nephew had never spoken about his work.
"He was very, very talented," he added.
"He would never talk about his work and the family knew not to ask really."
Mr Williams' academic talent was evident at an early age, when he was a pupil at Bodedern Secondary School in Anglesey.
His maths teacher Geraint Williams said he had been an "exceptional" pupil.
"He was probably not the best mathematician I have seen, but the best logician," he said.
"If you explained something once, he remembered it, you didn't have to explain it again."
While he was a secondary school pupil, Mr Williams was also being coached at Bangor University and graduated with a first class degree in maths at just 17.
In 2000, he took a postgraduate certificate in mathematics at St Catharine's College, Cambridge.
He was then offered a job at the Government Communications Headquarters (GCHQ) in Cheltenham.
"It didn't surprise me at all that he was very interested in codes and ciphers," Geraint Williams said.
"It didn't really surprise me that he was recruited by GCHQ."
Mr Williams worked as a communication officer at GCHQ before being sent on secondment to MI6 for a year.
The head of MI6 Sir John Sawers described Mr Williams as a "highly talented person" who was "very modest and generous as well".
He added that Mr Williams had done "really valuable work with us in the cause of national security".
Mr Williams grew up as a keen cyclist and joined Holyhead Cycling Club when he was 17.
Keith Thompson, from the club, said: "He was a really lovely young man.
"We were club mates but Gareth wasn't the sort to go to the pub after a race, so he didn't have any close friends in the group.
"It was his cycling that we knew about. He was known for being very good on hill races but a couple of times he won the club's 'best all-rounder' award."
An inquest will be held at Westminster Coroner's Court on 15 February.