Met Police shut websites during Christmas shopping rush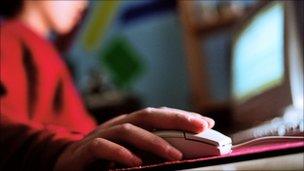 More than 1,800 websites selling counterfeit or non-existent goods have been shut down by police.
The websites were offering items including Premier League tickets, Ugg boots, Tiffany jewellery and Timberland clothing.
Shoppers who paid for the goods either received faked items or nothing at all.
Police said the sites were run by organised criminals and generated millions of pounds.
Nominet, which handles domain name registrations ending in .uk, assisted with the crackdown.
The Metropolitan Police said they saw an upsurge in counterfeit web crime over the Christmas period.
Det Insp Paul Hoare said: "The removal of these websites will have prevented numerous victims from falling foul to this type of offence.
"As a general rule, if something looks like it is too good to be true, it probably is."
Related Internet Links
The BBC is not responsible for the content of external sites.