Student Alfie Meadows 'was not denied' hospital access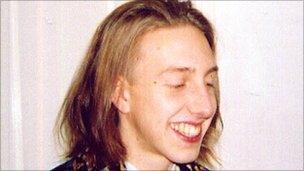 An investigation has found that police officers did not deny a man access to a hospital during a student protest.
Alfie Meadows, 20, suffered head injuries at the student fees protest in central London on 9 December.
His mother Susan Matthews said police objected to him being treated at Chelsea and Westminster Hospital, where some injured officers had been taken.
But the Metropolitan Police's Directorate of Professional Standards said the claims had been "disproved".
Mr Meadows, a philosophy student at Middlesex University, suffered bleeding on the brain and needed brain surgery.
Mrs Matthews alleged that an ambulance driver had told her that when her son arrived at Chelsea and Westminster Hospital there was a "stand-off" between police and medical staff in a corridor over where he was to be treated.
The student was initially treated at Chelsea and Westminster, but was transferred to Charring Cross Hospital where there is a specialist brain injuries unit.
Commander Mark Simmons, head of the Met's directorate of professional standards, said: "This claim has been thoroughly investigated, and subsequently disproved.
"In the same way we would publicise if officers have been found to fall below high standards required, it is only right that where allegations against police are disproven, we update on it."
Responding to the investigation's findings, Mrs Matthews said: "I can understand why they would take police to one hospital and protestors to another.
"Nevertheless, clearly when there is a seriously injured person then you cannot turn them away.
"That decision needed to be over-ridden and it was by the hospital," the Southampton University English literature lecturer added.
A separate Independent Police Complaints Commission (IPCC) investigation is under way into allegations that Mr Meadows suffered bleeding to the brain after he was was struck by a police truncheon.
Mrs Matthews said her son had left hospital and was "making a fantastic recovery".
Related Internet Links
The BBC is not responsible for the content of external sites.