London taxi fixed fare scheme delayed by lack of staff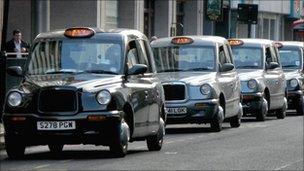 The remainder of a trial scheme which charges passengers a fixed fare for a taxi ride home from central London has been delayed owing to a lack of staff.
The first weekend of the trial showed "more manpower" was needed, London Taxi Drivers' Association (LTDA) said.
The LTDA said it did not anticipate the "huge success" as more than 500 taxi trips were made on 17 and 18 December.
The trial, operated from a rank on Coventry Street, near Leicester Square, charged passengers from £20 to £50.
The service, available on Fridays and Saturdays between 2200 and 0400 GMT, was to resume from 8 January after a break for Christmas.
But now the trial, which is funded and staffed by the LTDA, will resume from the weekend of 28 January.
LTDA General Secretary Bob Oddy said the first weekend had "surpassed all expectations".
"It is clear from the huge demand on both nights there is an appetite for the Golden Fares service, but just managing this is going to require substantially more manpower and costs than we envisaged.
"Given this we plan to delay resuming the final three weekends of the trial until the end of January, when hopefully we will have resolved those issues.
"We feel there will be demand for the service from the end of that month heading into Valentine's Day."
Westminster Council's city commissioner of transportation, Martin Low, said: "What we also want to do is combine the Golden Fares with an operation to clamp down on the touts, and also we tackle any touts trying to take advantage of the Coventry Street rank when Golden Fares is not in operation.
"A decision on whether to extend it further will be made at the end of the fourth weekend in mid February," he added.
Related Internet Links
The BBC is not responsible for the content of external sites.