Disruptions hit Tube as drivers go on Boxing Day strike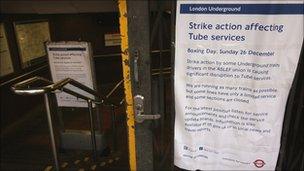 A strike by train drivers on London Underground (LU) over working on Boxing Day disrupted almost all the Tube lines on the network.
The drivers' union Aslef said the strike was "100% solid". The union demanded triple pay and a day off in lieu for working on Sunday.
London Mayor Boris Johnson said the union's demands were "monstrous" and accused the union of "trying it on."
The strike came on the first day of the post-Christmas sales.
Mr Johnson said: "The demands being made by the leadership of Aslef are monstrous.
"It has been clear ever since the Gregorian calendar was reformed in the mid-18th Century that Boxing Day 2010 would fall on a Sunday. So why do they demand more money with three weeks to go?
"They are breaking the deal and trying it on."
Mike Brown, LU managing director, said: "The union leadership has shown complete disdain for all who want to visit family and friends or hunt a good bargain during what is one of the busiest shopping days of the year."
Steve Grant, Aslef's London spokesman, said: "It's been 100% solid from our members and it seems other unions' members have supported our action without any picket lines at all.
"The company was forcing people who had booked today off to work and only paying them flat time.
"The strike didn't have to happen if LU or the mayor's office had negotiated. We have been trying to negotiate this for two years."
A spokesman for the New West End Company said hundreds of shoppers queued, some overnight, outside flagship stores on Oxford Street when their doors opened on Sunday morning.
But he added a combination of shorter trading hours on Sunday and the Tube strike meant most retailers were hoping shoppers would flock to the stores on Monday.
Earlier London Chamber of Commerce and Industry said: "Boxing Day is a key trading date for the retail and hospitality industries and they will lose millions."
In 1996, Aslef signed an agreement that it would consider Boxing Day a normal working day in return for higher pay and longer holidays.
But the union said increased Tube services on bank holidays meant drivers now had to work more public holidays than was the case when the agreement was signed.
London Underground challenged the strike notification, saying it was illegal as it was not worded properly, but after a hearing lasting almost four hours, the court ruled against the company.
It comes after a series of Tube strikes by members of the RMT union in recent months over plans to cut jobs in stations.
Related Internet Links
The BBC is not responsible for the content of external sites.