Airports should be fined for disruption, ministers say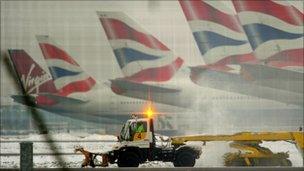 Airports could face fines when passengers have their travel plans disrupted, the government has said.
London's Heathrow Airport faced criticism last week when it closed snow-hit runways, stranding thousands.
Aviation minister Theresa Villiers said an airport should be fined when it "does let passengers down and doesn't prepare properly for severe weather".
Airport operator BAA said it welcomed any law "designed to improve the experience for passengers".
A spokesman added: "We will of course play a full part in the government's discussions about this year's weather disruption and will make public the findings of our own independent investigation."
Ms Villiers said ministers wanted to "give the regulator power to fine the airport where it does let passengers down and doesn't prepare properly for severe weather conditions".
She added: "We want to make sure that airports are doing their very best to prepare for severe weather conditions.
"They need to perform properly and they need to prepare properly."
Transport Secretary Philip Hammond told the Sunday Times there should be an "economic penalty for service failure".
In the interview, Mr Hammond said it was unacceptable that BAA would face no punishment under the current system for the recent chaos at Heathrow.
Under that system, fines can be imposed by the Civil Aviation Authority for failures in passenger queues at security checkpoints and for poor standards of cleanliness. The maximum total annual penalty is 7% of airport charges.
Mr Hammond said he wanted the air regulators to have the power to impose additional financial penalties.
"Greater weight needs to be given to performance and passenger satisfaction," he added.
The Sunday Times says a new airport economic regulation bill would create new powers to impose fines for service failures and penalties for airports which fail to prepare for adverse weather.
A spokesperson from the Department for Transport said it was "considering options" for new legislation.
"The government is committed to reforming the way airports are regulated, putting passengers at the very heart of how they are run," the spokesman added.
BAA chief executive Colin Matthews announced he would give up his annual bonus after recent disruption at Heathrow.
The company, owned by a Spanish conglomerate, found itself unable to clear snow and ice from runways and aircraft gates, crippling the airport and ruining the holidays of thousands.
Flights were also disrupted at Aberdeen, Edinburgh, Glasgow, Gatwick, Luton and London City airports, while terminals across Europe were also closed.
The EU Commission said the industry needed to "get serious" about preparing for bad weather.
Related Internet Links
The BBC is not responsible for the content of external sites.