'Six crimes a day' solved by CCTV, Met says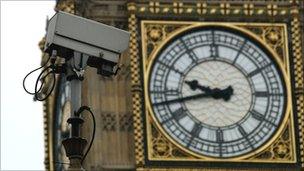 CCTV cameras across London help solve almost six crimes a day, the Metropolitan Police (Met) has said.
Det Ch Insp Mick Neville, who heads the Met's identification unit, said CCTV images were "treated like fingerprints and DNA" by the force.
The number of suspects who were identified using the cameras went up from 1,970 in 2009 to 2,512 this year.
Earlier this month campaign group Big Brother Watch criticised the rise in the number of CCTV cameras.
The group said the cameras were "a ubiquitous feature on Britain's streets".
The number of cameras in Britain has gone up from 21,000 in 1999 to 59,753 in 2010, it added.
The Met said among the 2,512 suspects caught this year, four were suspected murderers, 23 rapists and sex attackers and five wanted gunmen.
Mr Neville said: "The key to our success is that images, unidentified images, are treated as a forensic discipline. They are treated like fingerprints and DNA."
But the move from VHS to digital technology was a "double-edged sword", he said.
"We get high-quality images that are easily searchable but they are often not held as long.
"With VHS people held 31 tapes, one for each day of the month, and it did not require specialist officers to get hold of the stuff.
"People are now being confronted by computers and hard drives and told to get those images and it is not as easy."
The rise in the number of criminals caught also raises "public confidence" and counters "bad publicity for CCTV", Mr Neville said.
Related Internet Links
The BBC is not responsible for the content of external sites.