Kate Middleton to join Tussaud royal family by end 2011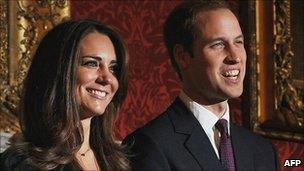 Kate Middleton may not get her place next to Prince William until late 2011, Madame Tussauds has said.
The wax sculpture museum said it will try to book a sitting with Miss Middleton after her wedding in April.
It would then take sculptors up to four months to make the model. The museum was also waiting to hear if she would donate an outfit for the waxwork.
The Queen, Prince Phillip, Prince Charles, Camilla and Princes William and Harry are already cast in wax.
A Madame Tussauds spokeswoman said: "It looks likely it will be shortly after the wedding and then it takes four months to complete."
On Miss Middleton's look for the model the spokeswoman said: "It depends on what she wants and whether she can donate clothing.
"I imagine the sculptors will probably go to her and the sitting normally takes a couple of hours."
Only the core members of the Royal Family are featured in the museum.
Related Internet Links
The BBC is not responsible for the content of external sites.