Sales shoppers spend £120m in London's West End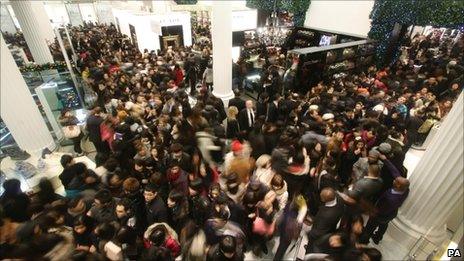 More than 1.3 million shoppers have spent £120m over the past two days in Boxing Day sales in London's West End, the area's retailers have said.
The New West End Company (NWEC), which represents the stores, said it was the "busiest sale in five years".
About 500,000 bargain hunters visited shops on Sunday despite a Tube strike and shorter trading hours.
An NWEC spokesman said tills had been "very busy" on Monday as 800,000 people visited the shops.
While most of the stores began their sales on Sunday, others like John Lewis, Next and Harrods opened their doors for Boxing Day sales on Monday.
The NWEC said Selfridges and House of Fraser, which opened for sales on Sunday, had "one of their best sales ever".
Figures for Selfridges were up 40% to last year and House of Fraser recorded the best sale since 2001, the NWEC spokesman said.
He added: "It was a very good Boxing Day. It was very touristy and is still very busy.
"We could end the whole year up 6% up on last year."
Related Internet Links
The BBC is not responsible for the content of external sites.