London New Year's Day parade band stranded by US snow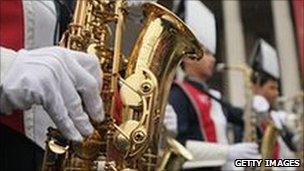 A 375-strong marching band due to star in London's New Year parade has been stranded in the United States by snow.
Musicians from the James Madison University in Virginia were due to fly in to provide "a big start, as well as a big finish" on Saturday, the event's executive director, Bob Bone, said.
He said he was frustrated some airlines were not helping to rearrange flights.
The group and other American performers represent about a quarter of the participants at the annual parade.
It is marking its 25th anniversary in 2011.
Mr Bone said the event's agents in the US were finding it difficult to make alternative arrangements after about 7,000 flights were cancelled by up to 51cm (20in) of snow in the north-east of the country.
"With one particular airline yesterday, our office in America had the phone on hold for 123 minutes before it was picked up," he told BBC London 94.9.
"It's very, very frustrating.
"A few airlines have stepped up to the plate and done a good job. I'd like to say thank you to British Airways and American Airlines for doing that.
"But there are a few others who are certainly misbehaving at the moment and really could, if they tried, get our passengers across here."
The Marching Royal Dukes of James Madison University are among 10,000 participants at the parade.
It begins at 1145 GMT outside the Ritz hotel on Piccadilly and ends at 1500 GMT in Parliament Square.
An estimated 500,000 spectators are expected.
Related Internet Links
The BBC is not responsible for the content of external sites.