Cigarettes fire safety standard 'will save lives'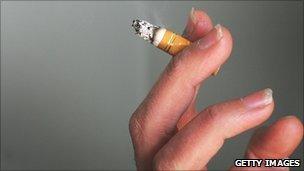 A campaign headed by London Fire Brigade (LFB) has led to a new European safety standard for cigarettes which it believes will save hundreds of lives.
All cigarettes made after November 2011 will have special bands which extinguish the tobacco if it is not being smoked.
Trading standards teams will be able to remove cigarettes which do not comply.
LFB said about a third of all deaths from accidental house fires were caused by cigarettes and smoking materials.
And it was estimated one to two lives could be saved each day across the EU if all cigarettes met the new safety requirement, LFB added.
"We have campaigned long and hard for this legislation to be introduced, and now it has, it will undoubtedly save lives," said Susan Hall from the London Fire and Emergency Planning Authority.
"Cigarettes and other smoking materials are the biggest killer when it comes to accidental house fires, with 78 Londoners losing their lives over the last five years."
The bands on the cigarettes are intended to restrict the supply of oxygen, and cause the end to self-extinguish after a short period of time.
Related Internet Links
The BBC is not responsible for the content of external sites.