London fire engine convoy marks Blitz anniversary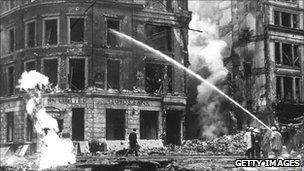 A convoy of five World War II fire engines has been driven through the City of London on the 70th anniversary of a German air attack which came close to destroying St Paul's Cathedral.
The night of 29 December 1940 became known as the second Great Fire of London, with about 160 people killed.
The "firestorm" from the bombs wrecked eight churches and the Guildhall.
Wednesday night's procession left Dowgate fire station and passed the Tower of London on route to St Paul's.
Wreaths were then laid at London's firemen's memorial, one for St Mary Aldermanbury, a church in the Square Mile which was bombed and then dismantled after the war, before being rebuilt in Fulton, in the American state of Missouri, as a memorial to the victims.
The bombs narrowly missed St Paul's, with firefighters ordered to ensure the flames in nearby buildings did not reach the cathedral.
Neil Bloxham of the Fire Service Preservation Group, which organised the event, said it was in honour of the 16 crew members were killed during the bombing
"It could've all been different - St Paul's might not have been here today.
"Being a firefighter was totally different from what it is today and I don't think we would ever get the amount of fires today in London that we did on that night."
Common Councillor Marianne Fredericks, who took part in the procession, said: "It was a massive raid in the City of London and the London docks.
"Over Christmas there had been a lull in the bombings, but they started again just after 6pm on the evening of 29 December.
"Hitler thought that if he destroyed the cathedral, he would crumble the spirit of the nation. But St Paul's survived, and it became a beacon of pride for Londoners and the country."