Londoners urged to indulge in Christmas recycling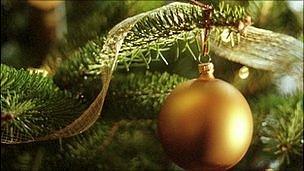 Londoners are being urged to recycle used wrapping paper, old tree lights and glass jars over the festive season.
It is hoped the move will cut down on unnecessary waste and help councils avoid costly landfill charges.
Wrapping paper can be left at regular recycling banks, once tags and tape have been removed, as can glass.
Recycling points and a collection service will be set up to deal with the 900,000 Christmas trees experts say are bought in London every year.
According to the British Christmas Tree Growers Association about half of the Christmas trees bought in the capital are recycled.
The Trafalgar Square Christmas tree will be chipped for recycling on 5 January.
Related Internet Links
The BBC is not responsible for the content of external sites.