Gay footballer in New Year Honours list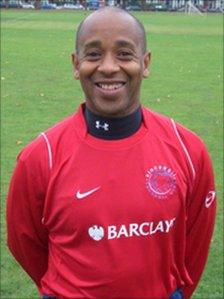 A founder of one of the first gay football teams said he was "pinching himself" after being appointed an MBE.
Londoner Aslie Pitter, 50, was recognised for helping to tackle homophobia after setting up London-based Stonewall FC almost 20 years ago.
He told the BBC it was nerve-racking being one of the first openly gay teams to "put our heads on the block" and start playing Sunday football.
But he said the team had barely received any abuse over the decades.
Mr Pitter, who lives in Balham, south London, now manages Stonewall FC's second team.
He said: "Being black and being gay I thought I might come in for a lot of stick.
"In our first game we were sharing a communal shower with seven other teams and I was pretty nervous.
"But it has never really been a problem."
Unfortunately Mr Pitter's father died only days before the announcement.
He said: "It is a shame neither of my parents were around to see it."
Stonewall FC chairman Liam Jarnecki said: "Aslie is a wonderful guy. People like him are the salt of the earth and the lifeblood of grassroots football.
"We're all overjoyed for him."
Also honoured was a Metropolitan Police officer who helped foil a plot to kidnap Princess Anne in 1974.
Pc Ivor Macgregor, 62, received the Queen's Policing Medal for Services to Policing.
Pc Macgregor said: "I was just a young officer in my 20s when I was called out to the Princess Anne kidnap attempt.
"I saw the royal car and someone shouted, 'That's him!'
"I ran after without thinking and he turned round and pointed his gun at me."
Pc Macgregor continued: "I jumped on him instinctively and held him down as he struggled until help arrived.
"My family and I are extremely honoured and proud to receive this."
Insp John Goodwin, who works with the officer, said: "He is a very brave man and this honour is thoroughly well-deserved."
Costume designer Sandy Powell, who was born in south London and studied at Central St Martin's art school in the city, was appointed an OBE for services to the film industry.
She has previously won Oscars for work on The Young Victoria, Shakespeare In Love and The Aviator.
Speaking after winning her third Oscar, she said: "I've already got two of these at home so I'm feeling greedy."
Other Londoners to have received honours include protest T-shirt designer Katharine Hamnett and author and actor Sheila Hancock, both of whom become CBEs.
Actor David Suchet, 64, most famous for playing TV detective Poirot, becomes a CBE.
And Susie Gregson, founder of the charity raising Proms at St Jude's festival in Barnet, was appointed an MBE.
Related Internet Links
The BBC is not responsible for the content of external sites.