Pet lizard 'Fluffy' found in London park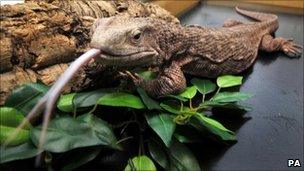 A lizard has been rescued after it was found wandering in a south London park two days after Christmas.
The 16in (40cm) long-necked monitor lizard, used to temperatures above 20C, was discovered in Lambeth on Monday.
Struggling in the cold weather, the lizard, nicknamed by animal hospital staff as Fluffy, was found with an abscess on his mouth and a swollen eye.
RSPCA officers, alerted by a member of the public, took Fluffy to the charity's animal hospital in Putney.
The animal hospital could not tell where the lizard had escaped from but said it was not uncommon for people to purchase lizards as pets when they were small, then abandon them when they grew larger.
Nurse Marianne Segev said: "He was initially very sluggish because when reptiles get cold their systems start to shut down.
"He was lucky as the weather was a little warmer than it has been recently.
"When he first came in, he was hanging on to the heat lamp, trying to warm up."
His name bears no resemblance to his appearance or temperament, according to animal hospital staff.
Ms Segev said staff "were taking the mickey" when they named him Fluffy.
"He's completely not fluffy in any way," she said.
"He's quite grumpy. And he has a pretty strong bite."
Once fully recovered it is hoped Fluffy will be moved to South Essex Wildlife Hospital.
Related Internet Links
The BBC is not responsible for the content of external sites.