Appeal 15 years after Camden murder of Alan Holmes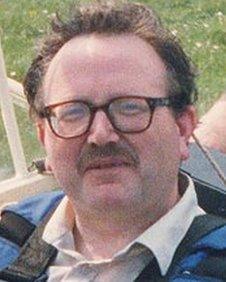 Detectives have appealed for information about the unsolved murder of a man found tied to his bed in his north London flat 15 years ago.
Alan Holmes, 53, was found face down and fully dressed. He had been tied to the bed in his Camden home for 10 days.
A post-mortem examination found the cause of death to be blood clotting through immobilisation and dehydration.
Det Ch Insp John Oldham, of Met police, said: "Those responsible have never been held to account."
He continued: "We hope that another year on, our re-appeals reach someone who may have information that will help the enquiry.
"I hope they now feel that they can come forward and speak to police."
On Christmas Day 1995, Mr Holmes had dinner with friends in west London. They later dropped him off at his flat in Parkway, Camden, at about midnight.
He missed work for several days and police officers forced their way into his flat on 4 January 1996.
They found him tied to the bed. He was critically ill, and had suffered severe injuries by having his limbs tightly tied. He had been lying there since Boxing Day.
Mr Holmes was taken to hospital where he was able to speak to police before he died the following morning.
Police believe the suspect or suspects got into Mr Holmes' flat and forced him to hand over two NatWest bank cards and divulge the PIN numbers.
A total of about £1,000 was stolen from the two accounts.
CCTV of people who used the cards was retrieved but they were not identifiable.
Five men were arrested in 1996, but none were charged.
Related Internet Links
The BBC is not responsible for the content of external sites.