London Ambulance Service has 'busiest ever night'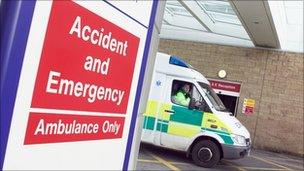 London Ambulance Service (LAS) says New Year's Eve was the busiest night in its history.
Staff in the control room were taking an average of 11 emergency calls every minute between midnight and 0400 GMT.
They answered a total of 2,639 emergency calls - some 800 an hour at the peak.
An LAS spokesman said it had expected a high number of alcohol-related incidents and had to prioritise very ill patients.
On an average night the service takes 180 calls an hour.
Deputy director of operations Jason Killens, who led the service's response on New Year's Eve, said: "Demand in the early hours was extremely high.
"A lot of that extra demand was because of alcohol-related calls and inappropriate use of the service - people shouldn't be calling 999 simply because they're drunk.
"We had to prioritise calls to make sure seriously ill patients got help - that meant more patients than normal with minor illnesses were given advice over the telephone."
The number of 999 calls exceeded the previous record, set on the eve of the year 2000.
Explaining the high number of callouts, an LAS spokesman said: "Everybody was up all night and a lot of people were worse for wear.
"A lot of calls were for someone who had drunk too much and passed out on the street.
"We have to judge every case on its own merit."
A temporary "alcohol recovery centre " was set up in the West End.
So-called "booze buses" then ferried drunken revellers to the centre where they were kept warm until sober enough to make their way home.
LAS is meeting later in the month to begin planning for New Year's Eve 2011.
There were 77 arrests during the night, mostly for public order offences.
Others were held for assault, drug offences and robberies.
There were a number of shootings and stabbings, though none were fatal.
Related Internet Links
The BBC is not responsible for the content of external sites.