25th New Year's Day parade attracts thousands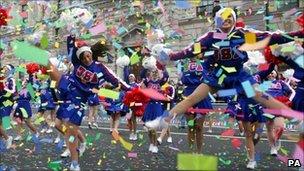 Hundreds of thousands of people from all over the UK have watched the 25th London New Year's Day parade.
Floats and musicians marched from the Ritz Hotel in Piccadilly, with more than 10,000 people and 15 London boroughs taking part.
The parade passed through landmarks such as Piccadilly Circus, Pall Mall and Trafalgar Square.
It ended just after 1545 GMT with a rendition of Land of Hope and Glory in Parliament Square.
It is thought the crowd may have exceeded 500,000.
Marching bands from the US arrived in the UK on time, despite concerns hundreds of participants would be stranded by snow on the other side of the Atlantic.
On Thursday morning there was a burst water main on the Victoria Street section of the route, but Westminster Council praised Thames Water for repairing the broken pipe within 14 hours.
The parade's floats had a silver theme to mark the 25th year of the parade.
Related Internet Links
The BBC is not responsible for the content of external sites.