Camden Council 'failings' over boy crushed by wall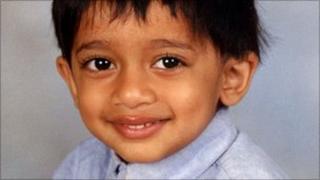 A north London council "failed in its duty" to maintain a wall which killed a toddler when it collapsed in high winds in January 2007, a court has heard.
Two-year-old Saurav Ghai was crushed as he and his childminder walked along Southampton Road in Gospel Oak.
Camden Council admitted two breaches of health and safety legislation but argued it was a sub-contractor's duty to ensure the wall was maintained.
Southwark Crown Court was told the wall was too thin for its height.
A trial of issue has begun at the court in south-east London.
The council initially pleaded not guilty to failing to discharge a health and safety duty, contravening two sections of the Health and Safety at Work Act 1974, but changed its plea to guilty in October.
The contentious point was the extent of its breach of the law, prosecutor James Ageros said.
'Risk to passers-by'
"It appears that the fact the wall was not built in accordance with good practice is agreed," he told the court.
"The issue is whether Camden Council was at fault for not realising the wall was built badly in the first place."
He said it was "unsatisfactory and unsafe" and "a risk to passers-by".
Dominic Key, defending the council, said the wall was built in the 1970s and repaired in 1997.
It was accepted that the wall was "too thin for its height", he added.
A former building surveyor for the council, Patrick Campbell, said the wall could have been cracked by sledgehammers or vehicles.
But while there was no reason to think it was unsafe, he said it was half as thick as a wall of that height would normally be.
In a statement, a council spokeswoman said: "Our deepest sympathy remains with Saurav's family, and we offer our condolences to all those affected."
The trial continues.