Mozart's music to be played on the London Underground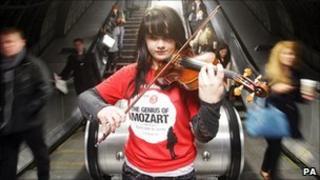 Classical music buskers have played on the London Underground as a part of BBC Radio 3's Genius of Mozart season.
Members of the BBC Symphony Orchestra were among the musicians performing at Canary Wharf, Bank, Waterloo and Liverpool Street stations.
About 60 stations already play classical music over their speaker systems.
For the first 12 days of the year Radio 3 will play nothing but Mozart-related material.
The Genius Of Mozart season follows previous celebrations of Beethoven and Bach, but this will be the most extensive dedication to one composer yet.
It will broadcast recordings, documentaries, live performances and a dramatisation of his life.
Roger Wright, Controller of BBC Radio 3, said: "Mozart was a prolific genius and his music is hugely attractive, so we hope that new listeners will join Radio 3 on air, online and even on the Underground for what promises to be a truly entertaining 12 days."
Mayor of London Boris Johnson said: "There is no doubting Mozart's prodigious talent, as this radio season attests.
"The familiarity of so much of his magnificent music may surprise some travellers, but what better way to brighten up the daily commute, especially on the first day back after the holidays."