Damilola Taylor's father calls for more charity funding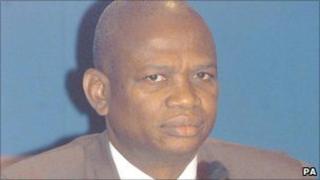 The father of Damilola Taylor, the 10-year-old killed in south London in 2000, has asked the government to give more support to youth charities.
Richard Taylor, 62, has campaigned against violent crime since his son was stabbed with a bottle in Peckham.
He said many charities were feeling "stifled" by cuts and as a result were "thinking of packing it up".
Downing Street said tackling and preventing youth crime was "a top priority for this government".
Mr Taylor, who was appointed an honorary OBE by the Queen last week to recognise his campaigning, said the prime minister was "holed up in No 10 and the House of Commons".
"He doesn't come to Peckham," he added.
"Government officials are holed up in their offices. They haven't been to Peckham, Abbey Wood or Wimbledon."
'So happy'
But a No 10 spokesman said David Cameron had "spent a great deal of time working with young people and a wide range of organisations on the best solutions and support".
The government was also providing £4m to local partnerships this year "to support their work in tackling violence committed by young people and against young people", the spokesman said.
A £250,000 fund would also help young people to run anti-knife crime projects in their neighbourhoods, he added.
Mr Taylor and his late wife Gloria set up the Damilola Taylor Trust, to help young people in inner-city communities, in 2001.
He dedicated his OBE - which is described as "honorary" because he is a foreign national - to the memory of Damilola and also to Gloria, who died in 2008, aged 57.
"Gloria was supposed to be here, along with Damilola. I wanted to dedicate it to the struggle she had," he said.
"I'm so happy to have the recognition," he said.