Jury see 'shocking' CCTV film of Godwin Lawson's death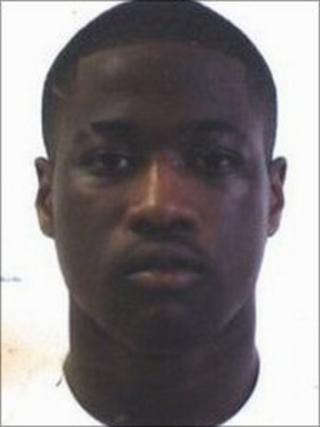 "Shocking" footage of the final moments of a 17-year-old boy stabbed in east London has been shown to jurors.
CCTV captured Godwin Lawson, from Enfield, north London, staggering between cars before collapsing after the attack in Stamford Hill in March.
The Old Bailey heard the teenager, an Oxford United Football & Education Academy student, died at the scene.
Moise Avorgah, 20, Daniel Riley, 22, Matthew Lanihun, 20, and Koffi Osimeh, 19, all from north London, deny murder.
Godwin was stabbed in the heart when he and two friends were attacked suddenly and without warning by a group of four men, the court was told.
On the night of the fatal attack, Godwin was with friend Daniel Borja, 18, and his brother Julian, 20.
Simon Denison QC, prosecuting, said: "They were attacked, suddenly and without warning, by a group of four young men, at least one of whom was holding a knife."
Julian Borja was stabbed twice and his brother four times but they both survived and made full recoveries, said Mr Denison.
Attempted murder
He told jurors: "Godwin Lawson was stabbed once, through the front of his chest, into his heart. He collapsed almost immediately, and he died on the pavement where he fell."
Before playing the CCTV footage Mr Denison told jurors: "You are watching the last moments of Godwin Lawson's life, and you will see him collapse in unconsciousness on to the pavement.
"Because we know that that is what we are looking at, it is shocking footage."
Mr Avorgah, of Tottenham, Mr Riley, of Holloway, and Mr Lanihun and Mr Osimeh, both of Finsbury Park, also deny the attempted murders of Julian and Daniel Borja.
Mr Denison said: "We don't know why they did it. But we say that evidence from the scene of this attack, and evidence that links those four together that night, demonstrates that they were the four people involved."
The case continues.