England Ashes win: Australian day for sober reflection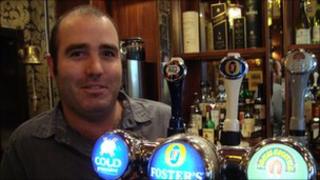 The pubs of Earl's Court were curiously devoid of Australians come Friday lunchtime.
The west London neighbourhood is reputed to be home to the greatest concentration of Antipodeans this side of the Indian Ocean.
But, after England's third victory by an innings in the final Ashes test, not one Australian drinker could be found in the local alehouses.
Perhaps it was coincidence that England had just triumphed 3-1 in the Ashes.
But the single Australian barman who works at the Blackbird pub in Earl's Court Road was not at his post either.
"We do have one Australian member of staff, but he's not in today," a colleague confirmed.
At least Australian duty manager Grant Ellis was hard at work in nearby boozer the Courtfield.
He said: "It has been mentioned pretty often by customers.
"All the bantering has been a bit of fun.
"They should enjoy it - it does not happen very often."
Fellow Australian Laura O' Malley, 20, who works at the Pembroke pub in the Old Brompton Road, said: "People have been going on about the cricket almost every day.
"But I don't take it too seriously, it's just fun and games."
Ms O' Malley was coy as to exactly what taunts she had faced.
But her manager said most customers had been describing the Australian cricket team with a single, unpublishable word.
"We haven't had any Australian drinkers in today," Ms O' Malley confirmed.
'I hate cricket'
Equally as fed up with the Ashes was another Aussie, Kirsty Harrington, 25, who works in O' Neill's pub on Old Brompton Road.
Asked if English people had been mocking the Australian performance, she said: "Yes they have. I actually hate cricket so I really don't care about the result.
"But I have had to pretend I liked it because that's what people expect."
Once again, none of her countrymen were to be found in the establishment.
But for Australians living across London it was a day of sober reflection.
Joel Conditsis, 31, an operations manager living in Finsbury Park, north London, said: "I work with a bunch of English people and play football with a team of them so it has been an ordeal.
"I had stayed up to watch every other match but last night I just went to bed because it was already all over.
"I got about four text messages at 1.30 when the final wicket fell."
He added: "Our performance was embarrassing. But when any team has been dominant for so long it's going to be hard to prepare for what comes next."
Quiet colleagues
David Kellie, 27, an IT worker from Kennington, south London, said: "We deserve all the jibes we get. We were abysmal."
The miserable, sodden weather that enveloped London seemed to perfectly mirror the Australian mood.
But at least one group of Antipodeans were in a sunny disposition - and with friends like the New Zealanders, the Australians are not in need of enemies.
Adam Sranks, who works in the Australian-themed Walkabout bar in Shepherd's Bush, said: "I am a Kiwi so I hate them even more than the English do.
"The whole series has been great.
"My colleagues have all been very quiet for weeks."