London Tube Oyster cards 'overcharged £60m last year'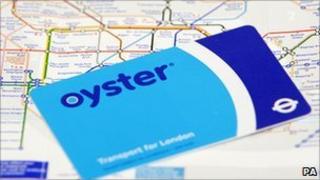 Mistakes at ticket gates caused Oyster card users to be overcharged by £60m last year, it has been claimed.
The problems arose when barriers were not working or left open, or if cards were not read when swiped, said Caroline Pidgeon, leader of the Liberal Democrats on the London Assembly.
The maximum £6 single fare is deducted for all "incomplete" Oyster journeys.
Transport for London (TfL) said any passengers who felt they were wrongly charged could apply for refunds.
'Complete nonsense'
Ms Pidgeon - who obtained the figures through a Freedom of Information request - called for a league table "showing exactly how much people are being ripped off at each and every Tube and train station".
And she claimed the extension of the pay-as-you-go system to London's 350 National Rail stations, which began at the start of 2010, had made the situation worse.
But the Association of Train Operating Companies said it was "complete nonsense to suggest train companies deliberately leave ticket barriers open, or do not install them to boost profits from Oyster users".
"Even where gates have to be left open, the Oyster touch pads continue to work," said a spokesman.
In August BBC London revealed TfL had refunded £40,000 in eight months to customers who had been overcharged by faulty machines when topping up their Oyster cards.
And there were nearly 2,500 complaints in that time about being double-charged when adding credit to the smartcard.