Brent Council defends fee rises after 'cash cow' remark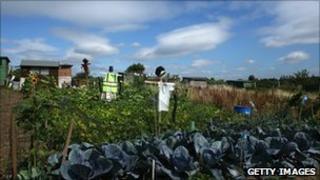 A London council has defended increased charges for its services after a government minister said councils were treating the public as "cash cows".
On 1 January, Labour-run Brent Council, in north London, more than doubled its fees for services including the cost of hiring an allotment.
Local government minister Grant Shapps said councils "should not be using residents as cash cows".
But Brent Council leader Ann John said the criticism was "disgraceful".
The authority has increased fees for many of its services, including the price of burial plots, by between 10% and 20%.
Fees doubled
As of 1 January, the cost of a burial plot for a person over the age of 16 increased by £220.
Other charges such as licence fees for scaffolding and skips and the charges for allotments have doubled.
The charge to hire a small allotment in the borough increased from £33 to £75 a year.
The council said the doubling of fees for certain services was because they had "previously been provided at comparatively low rates".
But Mr Shapps said: "Families are already paying too much in local taxes."
Ms John defended the fee rises saying: "Local government has borne the biggest percentage increase in cuts than any public service.
"What do they expect us to do? Pull the plug on services for older people? Not safeguard our children properly?
"We couldn't be doing more."