Row over CityWest housing officer bonuses in Westminster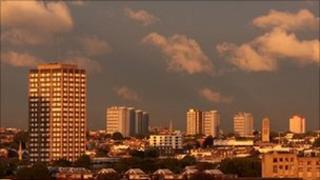 Fears have been raised that officials may be being rewarded with bonuses of up to almost £40,000 for minimising spending on council housing repairs.
A BBC London investigation has revealed that CityWest Homes, which handles housing stock for Westminster Council, runs a lucrative bonus scheme for staff.
In the past tax year CityWest split a bonus pot of almost £600,000 between 226 employees - with the highest single bonus paid being £39,769.
But the BBC has learned the bonus may incentivise officers to refuse expensive repair jobs on aging council homes.
An employee at CityWest said there was a direct conflict of interest between residents' needs and maximising payouts.
The officer, speaking under condition of anonymity, said:
A bonus of up to 5% is decided at the line manager's discretion. If senior managers refuse repairs, staff are reluctant to fight a residents' corner for fear of "rocking the boat" and jeopardising bonuses.
A further bonus of up to 5% depends on a target set by the director. If the target is to save money, staff may prioritise their bonus over authorising repairs.
The employee said: "People see the scheme as a meal ticket - there is a fear of losing it.
"It's money driven - if you can save money you'll be classed as doing much better.
"If you don't achieve the savings target set by the director, that could cost you your bonus."
The worker continued: "If an employee is refused funding for repairs, they are never going to push for it.
"That might be seen as 'affecting their performance' and impact on their bonus.
"If you don't follow their corporate outlook you won't get a bonus, simple as that."
A further 5% bonus depends on staff meeting a target they have proposed themselves - taking the total bonus available up to 15%.
CityWest chief executive Mark Hoyland said: "Our performance-based incentive scheme rewards staff for outstanding achievement and we believe no conflict of interest exists.
"The scheme is linked to customer satisfaction, operating within budgets and ensuring estates are well maintained.
"Our survey shows satisfaction with value for money and repairs has risen and overall satisfaction has gone up by 4% to 79%."
Chris Wright, of Bayswater Residents' Association, said he disagreed with the bonus system.
He said: "It has the potential for a distorting effect on the way officers operate.
"Anyone would have concerns about a scheme like that.
Speaking from his own personal viewpoint, he said: "It does sound as if there is a potential conflict of interest."
'Real indictment'
Paul Dimoldenberg, leader of the Labour group on Westminster Council, said: "If these allegations are true there needs to be a full inquiry into Westminster Council's bonus culture which appears to reward staff for minimising the amount spent on necessary repairs.
He added: "With a 6.8% rent rise promised for April, questions need to be asked if Westminster Council is a fit and proper body to run 12,000 properties."
Karen Buck, Labour MP for Westminster North, said the size of the bonuses "did not send out the right message" at a time of austerity.
But council cabinet member Melvyn Caplan said there was nothing for the council to investigate.
He said the council itself had stopped paying bonuses to staff in 2008 as part of a wider restructuring.
He added: "We do not give bonuses to staff and have not done so for a number of years - Councillor Dimoldenberg is fully aware of these facts."
CityWest Homes is a separate entity to the council.
The only other London council where a bonus scheme operates is Kensington and Chelsea, where a pot of £113,986 was split between 51 staff.
A spokeswoman for Kensington and Chelsea TMO, which handles the borough's housing, refused to give details of the size of the bonuses.
Westminster Council has been criticised in rows over "bonuses" before.
In October BBC London revealed the authority set up a private company using public money and drew up plans allowing it to split 25% of profits between staff.
The authority denied ever using the scheme to pay bonuses, however.