First female Asian police officer 'should be honoured'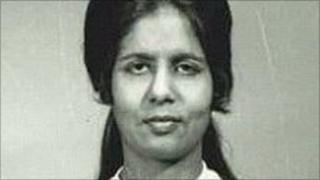 Calls have been made for a memorial to honour Britain's first female Asian police officer.
Karpal Kaur Sandhu joined London's Metropolitan Police exactly 40 years ago, on 1 February 1971.
It was a dream come true for the mother-of-two - but her life came to a brutal end in 1973 when she was murdered by her husband.
He objected to her career, claiming it was neither Asian nor ladylike, and was given a life sentence for his crime.
Her supporters say she should be remembered because she was a pioneer and because she paid the ultimate price for her job.
"She died performing her duty and she was murdered while going back home. So in those circumstances I think she should have a memorial," said Det Sgt Gurpal Virdi of the Metropolitan Police Sikh Association.
He has spent a lot of time piecing together her story.
"When I started researching Karpal I was astonished about her achievements," he said
"She was the very first Asian woman police officer, not only in London but also in the world, because the first woman officer in India was Kiran Bedi in 1972."
Mr Virdi thinks she overcame a lot of opposition to become an important milestone in the history of the Asian community in Britain and the police.
"Karpal had difficulties. Her husband didn't want her to join. Her family didn't want her to join.
"And the Asian community at the time in the 1970s didn't want our people to join because of the discrimination they were suffering at the hands of the police.
"It also very difficult for Asian people to get into the police at that time."
One of those who remembers Mrs Kaur Sandhu as an officer in Walthamstow and Leyton in east London is Satpal Singh.
He is the general secretary of the gurdwara, or Sikh temple, in Leyton.
"I met her about three or four times. We used to live around the corner from her. We didn't know she was a Sikh until she told us," he said.
'A pioneer'
Mr Singh says the local Sikh community backs the campaign for a memorial to honour Karpal.
"I think there should be a memorial for Karpal because it would encourage other Sikhs to become police officers in the country.
"We should be proud of women becoming officers in the force and we should honour them," he said.
Mrs Kaur Sandhu was born in 1943 in Zanzibar in east Africa. She came to Britain in 1962 when she got a job as a nurse.
But her dream was to be a police officer. That dream came true in 1971 when she joined the Met.
Her chief superintendent wrote in a report at the time that she was "proving invaluable with our dealings with the immigrant population, and she is also assisting other divisions in this work, and also teaching police officers Asian dialects."
Mr Virdi said she was "a pioneer" and "well ahead of her times".
"She was assisting CID in operations. On top of that she was patrolling the streets. It was very unusual for a young lady with two kids and a husband."
But the job caused a serious rift with her husband, who fled with their two young children to India.
Although she managed to get them back, he brutally took her life in 1973.
He stabbed her in the quiet, residential, tree-lined Chelmsford Road in Walthamstow, where she lived at the time.
It is where campaigners believe the memorial for her should be.
"They need to recognise Karpal for what she has done," said Mr Virdi.
'Serving all communities'
The Asian community has changed dramatically since the 1970s. Women have a much stronger voice and many have successful careers in many professions.
"Obviously the times have changed. Sikh women are well up in their careers now. I have met many Sikh women police officers," says Mr Singh.
The police have changed too. Campaigners say it is thanks to pioneers like Mrs Kaur Sandhu that today there are 280 Asian women police officers in London alone.
One of them is Sameera Bhatti, who is based in Stratford in east London and is a trainee detective constable.
"It shouldn't matter whether I am a female or a male, what religion I come from, what my background is, what country I'm from. At the end of the day the police serves all communities," she said.
Karpal Kaur Sandhu's supporters say a memorial would not just honour her as Britain's first Asian woman police constable.
It would also be due recognition for a woman who overcame a lot of obstacles to realise her dream - a dream that was cruelly taken away.