Poll shows rise in London visits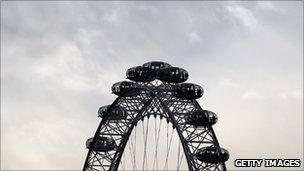 Visits to the capital's top attractions rose in 2010 but were still affected by bad weather, Visit London has revealed.
London welcomed 3.1% more visitors than in 2009 and 4.24 million tourists between July and September alone.
Visit London said the last quarter showed a mixed picture with a 2.3% rise on the year before but December saw a 7% drop as temperatures plummeted.
It is hoped April's royal wedding and other major events will boost figures for 2011.
Sally Chatterjee, Visit London's CEO, said: "It is very positive news for London that our attractions have seen a growth in visitor figures despite a challenging year.
"While the majority of the year experienced a steady increase in visitor numbers, external factors such as weather, air strikes and the volcanic ash disrupted the overall growth pattern."
The figures come from a sample of 34 attractions across the capital including the British Museum, the London Eye and St Paul's Cathedral.
Related Internet Links
The BBC is not responsible for the content of external sites.