London embassies 'owe £50m in congestion charge fines'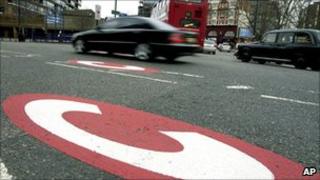 London embassies owe nearly £50m in unpaid congestion charges, it has been claimed.
Caroline Pidgeon, leader of the Liberal Democrats on the London Assembly, said the figure had risen from £48.7m to £49.4m since the start of the year.
Ms Pidgeon described the figure as "disgraceful".
She said: "It could pay for more than 260 new buses on London's streets, or fund the significant expansion of the cycle hire scheme."
'Insulting behaviour'
Ms Pidgeon added: "It is disgraceful that £50m is now being denied to Londoners by embassies that dodge paying the congestion charge.
"The small minority of embassies that think it is acceptable to evade paying the charge are insulting each and every Londoner.
"The congestion charge is exactly what its name suggests - it is a charge, not a tax.
"Embassies that claim that it is a tax are just clutching at poor excuses to justify their insulting behaviour."
Transport for London (TfL) said three-quarters of embassies in London paid the charge but there was a "stubborn minority" which refused.
A spokeswoman for the Mayor of London Boris Johnson said: "The mayor remains adamant that any non-paying embassies live up to their obligations to their host city and pay the charge.
"He has always insisted the congestion charge is exactly that; a charge not a tax and Transport for London continues to press for these charges to be paid."