Jubilee Line delays: Mayor 'rages' over Tube breakdown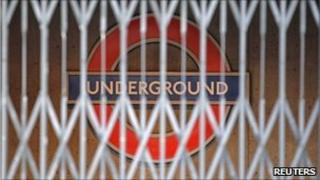 Mayor Boris Johnson "screamed down the phone" at London's transport commissioner, angry that a section of a Tube line was shut for two hours earlier, sources at City Hall said.
The Jubilee Line was closed from London Bridge to Stratford from 0735 GMT by a broken-down train and a signal failure.
Mr Johnson had asked Peter Hendy "for a report on his desk by the end of the day", a spokesman for the mayor said.
Transport for London (TfL) has promised to refund passengers who were affected.
It apologised for "any inconvenience" and blamed a faulty train in the North Greenwich area which subsequently caused a problem with a signal.
"We're working hard to complete the upgrade of the Jubilee Line, which we're on track to do later this year," said London Underground's managing director, Mike Brown.
"The new signalling system is now in place and we're working to get on top of any issues with our suppliers right now."
'Week of chaos'
The upgrade of the line's signals has been frequently delayed and was branded "a debacle" by Mr Johnson last February.
It is now scheduled to be completed this spring, five years after work began.
Bob Crow, the general secretary of the Rail, Maritime and Transport (RMT) union, said passengers had experienced "the worst week of chaos so far this year" on the underground network, with additional problems on the Metropolitan Line on Thursday and Friday.
The Tube system was failing "under the combined pressure of staffing and maintenance cuts and gross mismanagement right from the top", he added.
TfL said any Oyster pay-as-you-go passengers who had been charged for "incomplete" journeys on the affected stretch of the Jubilee Line between 0715 and 1030 GMT would be automatically refunded.
Any passengers with Travelcards or paper tickets could apply for refunds on the TfL website, it added.