Tube commuters hit by 'rush hour from hell'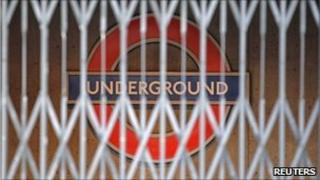 Commuters suffered the "rush hour from hell" because of fresh delays to services, a union leader has said.
The Waterloo and City Line was suspended, signal failure disrupted the Victoria Line and the Jubilee Line was hit again by disruption on Monday.
It followed delays to the Jubilee Line on Friday when a section was shut for two hours.
The Rail Maritime and Transport (RMT) union said the Tube had become a "sick joke" that was failing passengers.
Bob Crow, RMT general secretary, added commuters had suffered the "rush hour from hell".
Transport for London said Monday's Jubilee Line delays were caused by signal failures at St John's Wood and Dollis Hill.
Mayor Boris Johnson was reported to have demanded an immediate report from his transport commissioner, Peter Hendy, following Friday's disruption.
'Huge frustration'
Kulveer Ranger, the mayor of London's transport adviser, said: "The mayor has been assured that the upgrade of the Jubilee Line will be complete by the spring. He shares the frustration of Londoners affected by Tube problems this morning.
"He is overseeing the biggest upgrade in the Tube's history at the same time as it is carrying record numbers of people."
Ken Livingstone, Labour's mayoral candidate, said: "This morning's severe delays across the Tube network have once again caused huge frustration for millions of commuters.
"Boris Johnson's failure to get a grip of the daily delays, closures and disruption on the Tube shows he is increasingly out of touch with the issues of concern to ordinary Londoners."
Unions are locked in a bitter row with London Underground over hundreds of job losses at ticket offices which led to a series of strikes last year and remains unresolved.