U-turn on London 2012 Olympic Stadium 'wrap'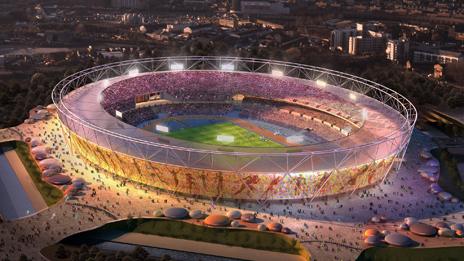 A giant fabric "wrap" covering the outside of the London 2012 Olympic Stadium is to go ahead after being dropped from the plans last year.
Public funding for the £7m curtain was removed as part of the government's Comprehensive Spending Review.
The Games organisers are now inviting expressions of interest from the private sector to supply the covering.
Olympic guidelines prohibit branding in venues so there will be no sponsor logos on the wrap during the Games.
Paul Deighton, chief executive of the London organising committee (Locog), said: "We have had significant interest in supplying the stadium wrap from the private sector, so now is the time to start a formal tender process.
"There are some exciting ideas around, and we are running a process that is fair to those organisations that have expressed an interest."
The 900m long covering is designed to display moving images and to minimise crosswinds inside the stadium.
Stadium architect Rod Sheard, senior principal at Populous, expressed disappointment when the wrap was dropped from the plans.
After Locog's announcement that it was being reinstated, he told the BBC: "Designing a building like this is like bringing up your children.
"You try and do the right things for them but ultimately you know there is a time when you have to let go.
"I just want to make sure they are appropriately dressed when they walk out the door to meet the world.
"There is no doubt that the wrap is a wonderful opportunity for an organisation to be associated with what will be the most visible part of the London Olympics.
"There has been a great deal of interest shown already so I suspect this process will generate some good ideas for its implementation."
Companies have until 18 February to register their interest in supplying the wrap.
The future of the stadium after the Games may come a step closer to being decided this week as the Olympic Park Legacy Company is expected to choose between rival bids from West Ham and Tottenham Hotspur football clubs.
Related Internet Links
The BBC is not responsible for the content of external sites.