Council jobs at risk as London boroughs merge services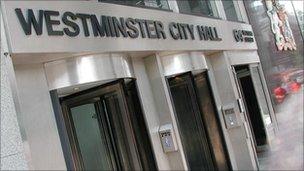 Three Tory-run councils in London have drawn up plans to share some services, potentially saving £35m a year but putting hundreds of jobs at risk.
A 100-page proposal by Hammersmith and Fulham, Kensington and Chelsea, and Westminster has suggested cutting half their 350 middle and senior managers.
Departments including education, social care, libraries and property management would also be far smaller by 2014/15.
The three councils' cabinets will each discuss the plans later this month.
A 50% reduction in the 350-strong team of middle and senior managers and their support staff.
Spending 54% less on back-office and managerial support in adult social care, in which 263 people work, saving £9.9m a year by 2014/15. Discussions have begun to transfer some services to an NHS trust.
Merging children's services, with one director and management team working across the three councils, saving £6m to £12m by 2014/15.
Westminster would transfer its HR team to one of the other boroughs next year, with a joint HR department for all three councils being considered. This is projected to save £2.7m a year by 2014/15.
Creating a single management team for the three boroughs' libraries, saving £1.6m a year by 2014/15.
Saving between £2m and £5m a year on property management by sharing responsibilities for security, cleaning, printing and repairs.
Westminster to retain its chief executive but one chief executive and one managing director to be appointed across the other two councils.
All three councils would promise to retain their independence in certain areas and would still set their own council tax, budgets and spending priorities, the document said.
"Our councils remain committed to localism, with local decision-making and accountability," said Sir Merrick Cockell, the leader of Kensington and Chelsea.
"Indeed, combining services will increase our ability to respond and engage on local issues, and ensure a greater share of resources going to the vital front line.
"These proposals offer significant opportunities to save many millions of pounds for our taxpayers."
Local Government Secretary Eric Pickles said: "It is great to see three big London councils lead the way sharing senior staff and back offices, saving taxpayers millions of pounds and showing it's possible to do more for less and protect frontline services in the process."
Kensington and Chelsea will consider them a day later and Westminster's senior councillors will meet on 21 February.
If the proposals are approved, a detailed strategy on implementing them will be produced, with the first changes happening from May.
Related Internet Links
The BBC is not responsible for the content of external sites.