West Ham Olympic bid offers 'best legacy for children'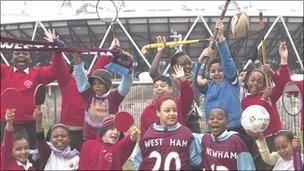 West Ham United's bid to take over the Olympic stadium offers the best legacy to children, says a school close to the site in Stratford.
The head of Carpenters Primary School said pupils' learning has been enriched through partnerships the Games has allowed it to make with schools abroad.
She said this could only continue if West Ham took over the stadium.
An application has also been submitted by rival Tottenham Hotspur to take over the facility after the 2012 Olympics.
Tottenham are joint bidders with sports and entertainment company AEG.
If Tottenham's bid win, they would not keep the athletics track at the stadium but have proposed to meet an athletics legacy promise by modernising track and field facilities at Crystal Palace.
It is proposing a significant redevelopment of Crystal Palace Athletics Stadium that would see its capacity increase to 25,000, with the ability for it to be increased up to 40,000 for major championships.
West Ham, in a joint bid with Newham Council, want to create a 60,000-capacity arena that will also be used for concerts and community events.
West Ham would keep the track and use the arena for football and athletics.
If its bid is chosen, local schools would have access to the stadium's community track and use the main stadium for their sports days.
There would also be free tickets for schools to sporting events.
The stadium would also host the prestigious national school Olympic and Paralympic-style sports competition.
Head teacher Sheryll Alexander said: "Our learning has been enriched in so many ways through strong partnerships the Olympic Games have allowed us to make with schools abroad and visits from former Olympians.
"These have left a lasting memory for pupils and they can only continue if the Olympic Stadium remains in the hands of West Ham United and Newham Council."
West Ham United vice-chairman Karren Brady said: "Our bid for the stadium makes sure our children have a sporting future. From schools to elite level, everyone will benefit."
Pupils in every class across every year group at the school have worked Olympic themes and the stadium into their curriculum learning.
The school also has an Olympic garden, for fruit and vegetables inspired by the health ideals of the Games.
A decision will be made by the Olympic Park Legacy Committee by the end of the financial year as to who will take over the stadium after the 2012 Games.
Related Internet Links
The BBC is not responsible for the content of external sites.