Further disruption on Central Line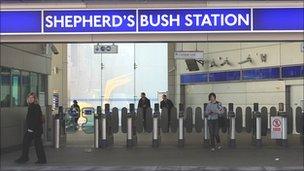 Central Line passengers faced further disruption a day after the boss of London Underground apologised for problems on the same line.
A signal failure in the White City area led to severe disruption on the entire line during the morning.
On Tuesday a communication failure between trains and controllers led to a two-hour shutdown of the line.
Transport for London apologised. But a transport union said the Tube was "lurching from crisis to crisis".
Services on the Central Line were affected by signal problems in west London at about 0900 GMT until 1130 GMT.
A TfL spokesperson said: "We are sorry for the disruption this may have caused but we kept this to a minimum by duty managers routing trains at a local level to keep the entire line running, while engineers were finding the cause of the problem and repairing it as soon as possible."
The Rail Maritime and Transport (RMT) union's Bob Crow said the Tube system was "lurching from crisis to crisis".
On Tuesday, in addition to communication problems, a signalling issue resulted in passengers being stranded in one train for 50 minutes and in another for 40. Normal service resumed at 1800 GMT.
Mike Brown, LU managing director, apologised "for every single disruptive journey a passenger ever has" but said the Tube could not be updated overnight.
The latest problems came the day after what Mr Crow called "a rush-hour from hell".
And disruption to the Jubilee Line on Friday led to mayor Boris Johnson "screaming down the phone" at London's transport commissioner Peter Hendy, sources at City Hall said.
Related Internet Links
The BBC is not responsible for the content of external sites.