Waste-energy plant work officially begins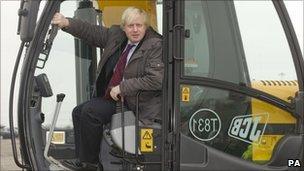 Work has begun on an £80m facility in east London that will turn household rubbish into energy.
The Dagenham plant will take waste from Barking and Dagenham, Havering, Newham, and Redbridge, which form the East London Waste Authority.
Once up and running in 2013 it will turn almost 100,000 tonnes of waste into 19 megawatts of energy each year, operators say.
The mayor of London officially started the work on the plant on Wednesday.
It is expected to create 25 permanent skilled jobs as well as up to 100 construction jobs during the building works.
A spokesperson from campaign group Friends of the Earth said: "We should be investing in quality recycling and re-use services, including food waste collections, for all Londoners - rather than build large and expensive facilities that will destroy recyclable materials and create a demand for rubbish.
"Aiming to prevent, re-use and recycle this waste would save much more energy - and climate changing gases - than this plant will generate from burning it."
The London Waste and Recycling Board (LWARB) agreed a £8.9m loan to Biossence East London Ltd, some of which has been used to secure the site and complete preparation work.
The plant will take household rubbish and break it down through thermal and chemical processes to create a synthetic gas fuel which is then used to generate electricity.
Related Internet Links
The BBC is not responsible for the content of external sites.