West Ham beat Tottenham to win Olympic stadium backing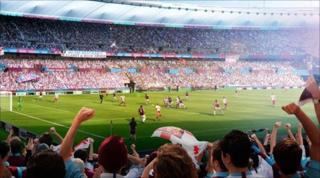 West Ham have won the backing of Olympic bosses in the battle for the 2012 stadium, BBC London has learned.
Olympic Park Legacy Company executives have decided the offer from the club - which would retain the athletics track - is better than Tottenham's rival bid.
They are expected to ask the company's board to announce West Ham as the preferred bidder on Friday.
The government and London's mayor will take a final decision but are expected to back the OPLC's recommendation.
An OPLC spokesman said: "It is pure speculation to say that a decision has been made.
"Our board meets on Friday. There will be presentations by OPLC officers of both bids and a vote to recommend a preferred bidder."
It would be a surprise if ministers and the mayor, Boris Johnson, overturn the recommendation of OPLC executives, who have spent the last few months discussing the various plans with both clubs in detail, when they reveal their decision in the coming weeks.
Reacting to the decision, Olympian javelin thrower Steve Backley said: "West Ham was the only real option.
"It was the only really viable bid that satisfied all the criteria.
"The Tottenham bid would have involved removing the running track which just wasn't an option."
But Lord Sugar, former chairman of Spurs, said: "It's totally flawed - it will be a white elephant.
"It will be a disaster for the taxpayer and we'll end up having a mothballed Olympic village.
"The Tottenham proposal is for an iconic anchor centrepiece."
West Ham are happy for the athletics track to be kept in the stadium and for the venue to be used for a variety of sports and concerts.
Tottenham's plans were to dismantle the stadium in Stratford and build a new football ground in its place.
The Spurs proposal has faced huge criticism from the athletics world, MPs and the public.
A recent BBC London poll suggested 81% of Londoners were against the proposals to rip up the athletics track.
The ComRes phone poll, carried out between 21 and 23 January, also suggested 72% of people in London wanted West Ham to get the stadium, with only 13% supporting Tottenham.
Ministers and the mayor are understood to be well aware that the Tottenham option would have been a "hard sell" to taxpayers.
Labour MP for Tottenham David Lammy told the BBC: "I haven't heard anything official but if this is right I think it is obviously the right decision.
"Their (West Ham's) bid in the end was for all London - and Londoners will be paying for this until 2017. Spurs' bid was for just one club.
"I hope we can get back to the White Hart Lane development which got planning permission just three months ago, for a brand new stadium with a capacity up to 56,000."
A selection of your comments in reaction to the recommendation
I'm a West Ham fan and obviously pleased with the OPLC's backing. It seems logical in view of the Spurs bid to knock down a brand new stadium and then eliminate themselves by moving the Olympic legacy, promised when we won the Games, to Crystal Palace which has a running track already. It's not ideal having a gap between fans and the pitch but that's the price of a new 60,000-seater, which could be the envy of the entire Championship next year! Hamish Green, Chingford, London
It's about time West Ham were backed in this. It is obvious to everyone that the Tottenham bid was flawed and totally contrary to everything that London wanted. Tottenham seemed to think they could decide who got it and even tried to stitch it up with 'celebrities' backing their proposal. This is a good step forward for West Ham United and British athletics. Lee Wyatt, Tunbridge Wells, Kent
I support neither West Ham nor Spurs but I am an athletics fan. It would have been shameful for Britain and its Olympic legacy had Spurs won this bid. Britain can now look forward to staging a fantastic Olympic Games and world class athletics for many years to come. Paul Barter, Chudleigh, Devon
As a steward for West Ham, I am concerned about the extra time it will take to drive to the stadium when we move. Also the surrounding area's parking is horrendous and I wouldn't want to risk a parking fine. I doubt all staff would be given a free parking space and I would not want to pay to park in the multi-story car park at the stadium at probably a large daily price. Jackie, Barking
I have been going to West Ham since the early 70s. It is truly a special atmosphere with not only the pitch enclosed but the stadium enclosed in the east end. It has lost a bit with the recent developments and the wider areas around the pitch. To go to an athletics stadium would be a disaster. I have been to grounds with tracks and it is awful. I have not met a West Ham fan who wants to move. I also believe the facilities and parts of the design are not conducive for football crowds. What I cannot understand is the short-sightedness of the design at how it would be used. It does not take a genius to work out that a pure athletics arena is not commercially viable. Geoff White, Chelmsford, Essex
Tottenham now may have to enter serious negotiations with the FA and revisit the contracts surrounding Wembley. Their stadium issue must be sorted asap and the White Hart Lane development is unaffordable. Ian, Herts
As a Tottenham fan, I am concerned that the club needs a better and larger home than at present, but I believe the West Ham bid to be the right approach. However, I have serious worries about its commercial viability. There will have to be further proposals to convince me. I know club sharing is anathema to many fans, but to work, the venue must be used continuously. Andrew Wright, Stroud, Gloucestershire
Upton Park has arguably the best stadium atmosphere in England. This is partly due to the incredible support of the fans through thick and thin, but it is also because of the very close and intimidating style of the stadium. West Ham will lose a strong weapon if they move to a stadium where a running track separates the fans from the pitch. For two businessmen who market themselves as supporters of the club, I would have expected them to canvas the opinion of real fans. My opinion, one which is shared by a large number of Hammers, is that we should stay at Upton Park, and if necessary, the prehistoric East Stand should be renovated and expanded. Daniel Graham, Portsmouth
It's a dreadful decision. It would have been a dreadful decision had Spurs got it as well, and threatens to drive my club, Leyton Orient, out of London or even out of business. That's the legacy. The screamingly obvious fact is that this stadium is not suitable for football. The whole process has been an unaccountable farce from start to finish. Tom Davies, Walthamstow, London
It would be a disgrace to rip up the running track, so my vote goes to the West Ham proposal. Peter Guarino, Jersey
Shame it didn't go to Spurs as the stadium was always designed to be partly dismantled after the Olympics anyway. I can understand West Ham wanting to keep the running track. The further you are away from the Hammers, the better they look. Tricksy, London
Well at least common sense has prevailed. Surely having spent so much money on a wonderful stadium and used taxpayers' money, were they really going to allow Spurs to come in knock it down and rebuild a brand new stadium. It's ridiculous to even think they had any justification for putting such an idiotic idea forward. Nik Burling, West Midlands