London Waterloo 'still UK's busiest station'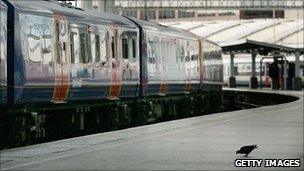 London's Waterloo is still the UK's busiest train station despite a drop in passenger numbers, figures show.
Almost 86.4 million people used the station from April 2009 to March 2010, the Office of Rail Regulation said.
This was a 2% drop on Waterloo's 2008/09 total, but the station was still far ahead of the second-busiest station, London Victoria.
Eight of the 10 busiest stations were in London. The others were Birmingham New Street and Glasgow Central.
Victoria station handled just over 70 million passengers from April 2009 to March 2010.
London's Liverpool Street station, which was ranked third, handled 6% fewer passengers - just under 51.6 million - in 2009/10 than the previous year.
The biggest rise in passenger numbers among the top 10 was at London's Euston station which handled 9% more passengers - just over 30 million - in 2009/10 than in 2008/09.
Outside London, there were 10% increases in 2009/10 at Edinburgh, which saw passenger numbers rise to 19.3 million, Glasgow Queen Street, which rose to 19.2 million, and Gatwick Airport, which handled 12.8 million passengers.
Related Internet Links
The BBC is not responsible for the content of external sites.