Woman 'knew boyfriend was dying' in Finsbury Park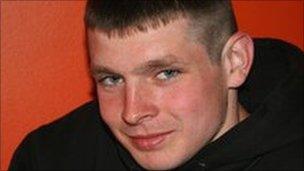 A woman has cried as she told a court how she knew "it was time to say goodbye" to her boyfriend, just after he was stabbed in north London in May.
Anna Betlinska saw Marcin Bilaszewski bleeding and his eyes were "going up and down", the Old Bailey heard.
The 19-year-old Pole is alleged to have been killed by a man said to have blamed Poland for World War II.
Dutch national Alphonse Kruizinga, 34, of no fixed address, has denied murder outside Finsbury Park Tube station.
In the weeks leading up to the stabbing he had been "complaining about Polish people and saying there would be bloodshed soon", prosecution lawyer Roger Smart told the court on Monday.
Mr Kruizinga followed the couple and their friends, "stalking" them as they went to a party, the court heard.
"I was asking him to go away," said Miss Betlinska, who was celebrating her 18th birthday on the night of the attack.
"I was asking him nicely," she added.
"I was trying to have fun, not to have problems with anyone else."
When Mr Kruizinga kept pursuing the group, she went after him, but said he punched her in the neck.
"After this he ran away, and when I turned around I heard screaming everywhere," said Miss Betlinska.
She wept as she explained that she "couldn't hear anything at all" when she looked at her boyfriend.
"I knew this was the last time, and it was time to say goodbye," she said.
Related Internet Links
The BBC is not responsible for the content of external sites.