Baby P doctor removed from medical register by GMC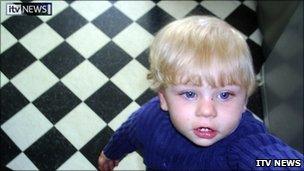 A doctor who said she failed to spot that the abused toddler Peter Connelly, known as Baby P, had a broken back has been removed from the medical register.
Consultant paediatrician Dr Sabah Al-Zayyat was facing action at the General Medical Council (GMC) over the care of the 17-month-old, who died in 2007.
But a GMC panel granted her request for "voluntary erasure" from the register, meaning she avoids a full hearing.
It also means that she can still practise outside the UK.
Peter died in Haringey, north London, after suffering months of abuse.
A post-mortem examination found he had suffered multiple injuries.
He had received 60 visits from authorities.
He was already on the local child-protection register when he was seen by Dr Al-Zayyat, a locum consultant community paediatrician at St Ann's Hospital in Tottenham.
The GMC panel quoted a letter from the doctor, written last October, in which she said: "I am deeply sorry from the bottom of my heart [for] the tragic death of P."
She went on: "His death will be with me until the last day of my life.
"I am extremely sorry with regret as I failed the child and let my patient down.
"I fell below the standard expected of me on the day," she wrote.
"I thought my decisions and actions on that day at that moment of time were reasonable but in hindsight my decisions were wrong."
The doctor's barrister, Mary O'Rourke QC, said she was suicidal, had suffered panic attacks and could not attend the GMC disciplinary hearings.
Peter's mother Tracey Connelly, 28, and her partner Steven Barker were ordered to serve minimum jail terms of five and 12 years for causing the death of a child.
Jason Owen, Barker's brother, was jailed for three years for the same charge.
Related Internet Links
The BBC is not responsible for the content of external sites.