London businessman vows to fight US extradition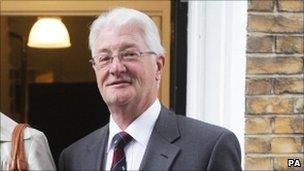 A retired businessman has vowed to appeal after a judge ruled he could be extradited to the United States to face charges of conspiring to sell parts for Iranian missiles.
Christopher Tappin, 64, of Orpington, on the Kent/south London border, denies trying to sell batteries for surface-to-air missiles to be shipped.
He accused US agents from a government agency of acting illegally to entrap him.
He faces 35 years in jail if convicted.
Mr Tappin has fought a long battle against attempts to send him to face trial in the US.
District Judge John Zani ruled at City of Westminster Magistrates' Court on Friday that the extradition could go ahead and released him on conditional bail.
Mr Tappin said he would challenge the decision in the High Court, and beyond that in the Supreme Court, if necessary.
He said: "I look forward to winning the next round of this intriguing case. I am sure that justice will eventually prevail, preferably British justice.
"I believe that my case is strong enough to resist the Americans."
Mr Tappin, president of the Kent County Golf Union, is accused of conspiring to export defence articles without licence or approval and aiding and abetting the attempted export of defence articles without the required licence.
He is also accused of intentionally and unlawfully attempting to conduct financial transactions from the outside to a place inside the US, with the intent to promote the carrying on of a specified unlawful activity.
His lawyer, Ben Cooper, told City of Westminster Magistrates' Court last September that the American agents "overstepped the mark of legitimate law enforcement" and effectively "caused the offence to be committed".
Related Internet Links
The BBC is not responsible for the content of external sites.