Egypt protests: Celebrations in London's Edgware Road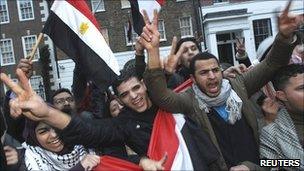 There were cries of "freedom" as 200 people shouted and sounded horns at the Egyptian embassy in Mayfair, then walked to the cafes of London's Arab community around Edgware Road.
"People are not going to sleep," said one man named Abdul. "I will cancel work for tonight and tomorrow."
Ali, who had just turned 20, said it was "a birthday I will never forget".
"It's the happiest day for all Egyptians, I can promise you," he told BBC London 94.9.
While many people had not believed a change of regime was possible, the Egyptian youth had "made this revolution through Facebook", he added.
Another man who joined Friday evening's celebrations in London said: "The people have suffered for 30 years and now it's time for freedom and change."
One woman, Meret, said President Mubarak had been "changing his mind day after day" about whether to stay or go, and she had been "really angry".
"I knew it was a matter of days but not just abruptly like this," she added.
Her friend Mohammed said: "I'm excited. I didn't believe it was going to happen, to be honest. It's been a great day for Egyptians and it's going to go down in history. Hopefully for Egyptians now it's a time to look forward."
And Labour leader Ed Miliband offered his congratulations, adding: "Now the task must be to create that democratic future that people have today won."