Herne Hill school protest over Lambeth 'lollipop' cuts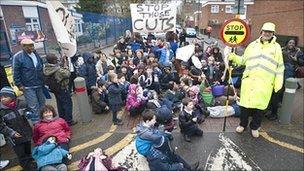 About 100 people have staged a sit-down protest in south London over plans to scrap 24 school-crossing staff.
The "lollipop" men and women will lose their jobs in Lambeth unless schools pay for them, rather than the council.
Parent Emily Fieldensaid a child was knocked down outside St Jude's Primary in Herne Hill last year, highlighting the need for patrols for pupils.
Lambeth Council said its budget was being reduced by a third and it was being "forced" to cut services.
"We don't want to have to stop providing school crossing patrols," said Councillor Pete Robbins, the borough's cabinet member for children and young people's services.
"But the scale of the funding gap we are facing has left us with some difficult choices.
"We'll be offering schools the option to keep school crossing patrols, but they will have to pay for them if they want them."
Mrs Fielden, a mother of two, said she and other parents were "horrified" that the school might lose its patrol at the end of August, particularly after the "terrifying" accident on the "dangerous" road outside.
"We know and understand that the coalition are imposing the cuts on Lambeth," she told BBC London 94.9.
"But at the same time to prioritise a service [for cuts] that directly affects the safety of children just baffled us."
Last month there was a similar protest outside Dollis Junior School in Mill Hill, north London, where patrols are also under threat.
Related Internet Links
The BBC is not responsible for the content of external sites.