Celebrities join bra auction in aid of new centre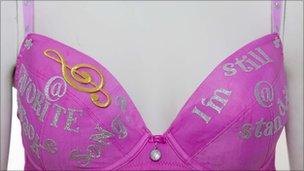 Dame Judi Dench and Danni Minogue are among a group of celebrities who have decorated bras to help raise funds for a new Jewish centre in London.
More than 40 women have taken part in the Big Bra Auction which will also raise funds for breast cancer charity Cancerkin.
The bras will be sold in an online auction until the end of February.
Money raised will help fund the new centre planned for 2013 on the Finchley Road in north west London.
Jewish Community Centre Ventures is working on the plans which include a 60-seat cinema, dance studio, learning centre and day-care nursery, according to the company's website.
Its sister organisation Jewish Community Centre (JCC) for London said on its website most JCCs have their own building where an extensive programme of events is held.
Novelist Naomi Alderman has written a story about her relationship with her breasts on her bra while actress Maurine Lipman has decorated her bra with a pair of blu tits.
The bras are also on display at London's Comedy Store.
Related Internet Links
The BBC is not responsible for the content of external sites.