Couples 'choosing cheaper register office weddings'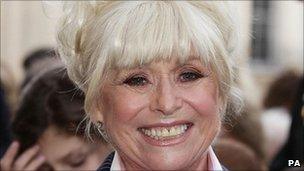 More people are turning to cheaper register office weddings when looking to tie the knot, according to a London council.
Westminster Council said it had seen a 16% year-on-year increase on the number of people getting married with it.
The council's registrars have married numerous celebrity couples including Sylvester Stallone, Joan Collins, Barbara Windsor and David Walliams.
One of the area's best-known wedding locations is Marylebone Town Hall.
Westminster Council said the number of people making provisional registry bookings was up by 15%, from 1,762 last year to 2,056 for 2010/11.
The authority said it believed increasing numbers of people were choosing more low-key venues to help save money.
Alison Cathcart, who has been Westminster's Superintendent Registrar for 20 years said: "These figures suggest that despite the economic doom and gloom people still want to get married, but they now seem to be looking for a cheaper alternative to the traditional and somewhat expensive church wedding.
"With so many historic and unusual venues available around the city booking a registry office has proven to be a really popular option for people looking to get married or have a civil partnership.
More unusual marriage venues which are registered in Westminster include London Zoo, the Fortnum and Mason shop, the London Palladium, Theatre Royal Drury Lane and the Institute of Physics.
Couples can also get married in historic hotels such as Claridge's, the Ritz or the Savoy, grand venues such as Banqueting House or Somerset House or a stately home such as Spencer House.
Last year Westminster Council gave approval for civil partnership ceremonies and marriages to be held in the Houses of Parliament.
The licence means that for the first time in its history, members of the public, as well as MPs and their families, can get married in the Palace of Westminster.
Related Internet Links
The BBC is not responsible for the content of external sites.