2012 London Olympics 'still on budget'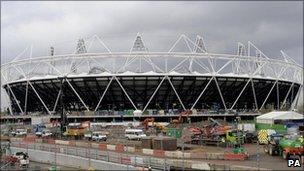 The London 2012 Olympic and Paralympic Games are set to be ready on time and within budget, say the government and Olympic Delivery Authority (ODA).
The total budget remains £9.298bn and the anticipated final cost is £7.301bn.
Olympics Minister Hugh Robertson said: "Construction is progressing on time and to budget, putting the London 2012 programme in the best possible shape."
But ODA Chief Executive Dennis Hone said: "There is still a lot of hard work ahead."
Last week it was announced that West Ham United were the preferred bidder to take over the Olympic Stadium after the Games.
In 2003, then government minister Tessa Jowell launched the Olympic bid and told MPs it would cost £2.375bn.
By 2007, the budget had risen to £5.3bn, including regeneration and infrastructure, but that was later raised further.
Mr Robertson said: "This is the year when tickets will go on sale, test events start, volunteers are recruited, the torch relay route is announced and venues start being prepared for competition. Now is the time for everybody to start planning their Games."
Mr Hone said the project was on schedule and within budget: "The project is now 79% finished to Games-time with the velodrome set to become the first venue on the park completed later this month.
"We continue to bear down on costs where possible with around £780m now saved since the start of the project to keep us within budget.
"The ODA is on track to deliver a fantastic stage for the Games and in legacy, though we are not complacent - there is still a lot of hard work ahead."
Last year the ODA accepted responsibility for the operation of the Olympic Park and its venues and facilities between 2011 and 2014.
The ODA's budget for this additional work has now been finalised at £158m.
Related Internet Links
The BBC is not responsible for the content of external sites.